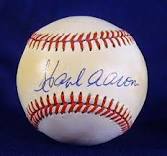 These days everyone is writing a Bucket List.  I wrote my list back in 1999 and one of the items I included was a autographed baseball from the 9 baseball players who I thought were the best n their respective positions.  As with everything I do, I had rules: 1) The signatures have to be on a official major league baseball – no commemoratives, autosigned, HOF or gimmicky balls; 2) all balls have to present with only the player's autograph, no multisigned balls; and 3) the signature has to be authentic and 4) it has to be a clean and visible signature.
My list of players was developed by looking at each players stats and their overall meaning to the game, while considering my rule constructs and the virtual impossibility of securing a verified autograph from players from the turn of the century like Christy Matthewson and Nap Lajoie.  I will say up front, I did not select Babe Ruth who many consider to be the best player of all time.  Why?  I just do not like him and I really do not want a signed ball from Ruth.  The rest of the list may have a bit of slant to my hometown Birds, but I would challenge the nay-sayers to consider Brooks Robinson and his strong defensive play combined with MVP stats, longevity and and World Series appearances against the typical Schmidt and Brett selections for a 3rd baseman.  The same is true of Cal Ripken and his 2632 games, 19 time All-Star selection, two AL MVPs and ROY honors .  His quest to top Gehrig's consecutive games played streak came at a time when the next closest player in Major League Baseball with an active games played streak was Albert Belle at 327.
Here is how I size them up:  Pitcher – Sandy Koufax; Catcher – Johnny Bench; 1st Base – "The Hebrew Hammer," Hank Greenberg (a rather price ball); 2nd Base – Jackie Robinson (that ball is also going to leave a mark in the ol' wallet); SS – Ripken; 3rd Base – "The Hoover"; Rightfield – Hammerin' Hank Aaron; Centerfield – Willie Mays,"The Say Hey Kid"; and in Leftfield – Ted Williams (but I am not averse to swapping him out for Stan "The Man" Musial).
Comments and analysis are always welcome but you are free to make your own list and grab your own balls.
Tags:
Aaron
,
baseball
,
MLB
,
Ripken
,
Robinson
,
sports