Posted in
Professional Sports
on March 26th, 2015 by Ian Paregol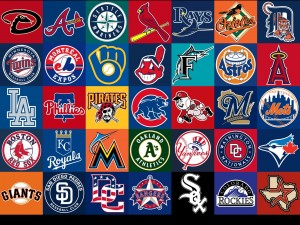 March 24, 2015 – The Cactus and Grapefruit League games are wrapping up and skipper's are setting up their rotations. Thus, its time for The Bench Jockeys to offer our predictions for the upcoming MLB Season.
What we know:   Pretty much nothing.  We did not agree on anything.  The betting lines have Mike Trout as a 1:1 favorite to take home the AL Most Valuable Player hardware, but it is interesting that none of the Jockeys see the Angels in the World Series despite the potential output of Trout, Pujols and Calhoun.  As a group, we see Felix Hernandez dominating the AL.  (Spound is still waiting for Tanaka to produce for his 2014 fantasy team, and we are not quite sure what Brittany is seeing that the rest of don't with respect to Joe Kelly of the Red Sox.)
Ian really wanted to take a flyer on the Mariners in the Series and likes Cano as a dark horse AL MVP pick, but he couldn't pull the trigger.  Britt and Craig both go all-in with an old skool LA-NY series and Chris and Ian both projected the same unlikely AL Champ to lose versus the pitching depth of the Nats.  And of course, the ever-diabolical Spound is rooting for the Cubbies to find their way back to the Championship just so Billy Sianis' curse can play-out yet again…106 years and counting.
| | | | | | |
| --- | --- | --- | --- | --- | --- |
|   | Britt | Chris | Craig | Ian | Spounder |
| World Series | Dodgers over Yanks | Nats over White Sox | Yanks over Dodgers | Nats over White Sox | Red Sox over Cubs |
| AL Cy Young | Joe Kelly | King Felix | King Felix | King Felix | Masahiro Tanaka |
| NL Cy Young | Clayton Kershaw | Max Scherzer | Madison Bumgarner | Stephen Strasburg | Clayton Kershaw |
| AL MVP | Mike Trout | Mike Trout | Miguel Cabrera | Mike Trout | Edwin Encarnacion |
| NL MVP | Bryce Harper | Giancarlo Stanton | Andrew McCutchen | Andrew McCutchen | Giancarlo Stanton |
Send us your thoughts in the comment section.
Tags:
MLB
,
predictions