Posted in
The Quick Hook
on March 21st, 2015 by Ian Paregol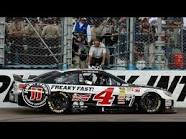 March 21, 2015 – Believe it or not, even though 4 of the 5 Bench Jockeys have limited gearhead knowledge, we all took notice of Kevin Harvick's sensational Win/Place streak.  Not since Richard Petty's 11 in 1975 has a driver rattled off so many consecutive Top 2 finishes in NASCAR.  Prior to the Auto Club 400 in Fontana, California this weekend, the "Freaky Fast" No. 4 Jimmy John's Chevy has earned its stripes as Harvick currently stands at 7 consecutive Top 2 finishes, dating back to the end of 2014 when Harvick captured the Sprint Cup Series title.  Harvick has qualified at the number 2 start position for the Auto Club, and is primed for another strong performance in Fontana where he has won before in 2011. As a result of his recent successes, he is the NASCAR Sprint Cup points leader for 2015.
We assume that the fact that Harvick's run has surfaced on The Bench Jockeys (as well as a few other more mainstream news sites) will be the kiss of death for his streak, so we wanted to weigh-in before it was over.  Sorry Kevin : (
March 22, 2015 Update – Kevin Harvick did secure 2nd place at the Auto Club 400 to make it 8 straight Top 2 finishes in a row.  The pressure continues to mount for Harvick in a sport that greatly depends on the intentions and competence of others.
Tags:
Harvick
,
NASCAR